Despite its distance from the city center, Istanbul Airport, located in Arnavutkoy, is easily accessible by public transportation and major highways. Turkey handles more than 210,000 flights annually.
The need for more efficient international airports continues to grow each year due to these visitor and air traffic numbers.
The Turkish government is committed to improving its capacity to accommodate more guests.
The new Istanbul Airport, one of the largest international airports in the world, was recently completed.
The first phase of Istanbul's new airport, which will go down in history due to its enormous areas, infrastructure, cutting-edge technology, and historic architecture, will be officially opened on October 29, 2018, according to Turkish President Recep Tayyip Erdogan.
The third airport in Istanbul was built on an area of 76.5 million square meters.
Construction of the next phases will be completed by 2023. 10,000 workers and employees have participated in the construction of the new airport.
It has a capacity of 500 airplanes, and about 70,000 cars can be parked in an open or closed parking garage.
In the first phase, 90 million people can be handled annually.
When all phases are completed, 200 million passengers will be able to use the airport annually.
250 airlines will use its services, and by the year 2000, aircraft will be taking off and landing every day.
The new airport of Istanbul, when completed, will be the largest in the world with an area of 76 million square meters and can be reached from 41 countries in 3 hours and from 66 countries in 5 hours.
It is the most prestigious and ambitious project in Istanbul so far, not to mention Turkey.
It will play a very important role in the traffic between Asia and Europe and at the same time increase the value of the real estate in Istanbul.
The airport is more like a city than an airport; it contains thousands of shops and waiting chairs and the latest technologies in modern-day airports.
It also offers a great luxurious experience from suites and shower rooms to travelers to cinemas and libraries, and let us not forget restaurants and 5 stars hotels.
Istanbul airport is writing history for Turkey right now, winning several international awards before its opening; especially when the design is inspired by the famous Ottoman architect Sinan Agha which means Turkey is trying to put its cultural signature here.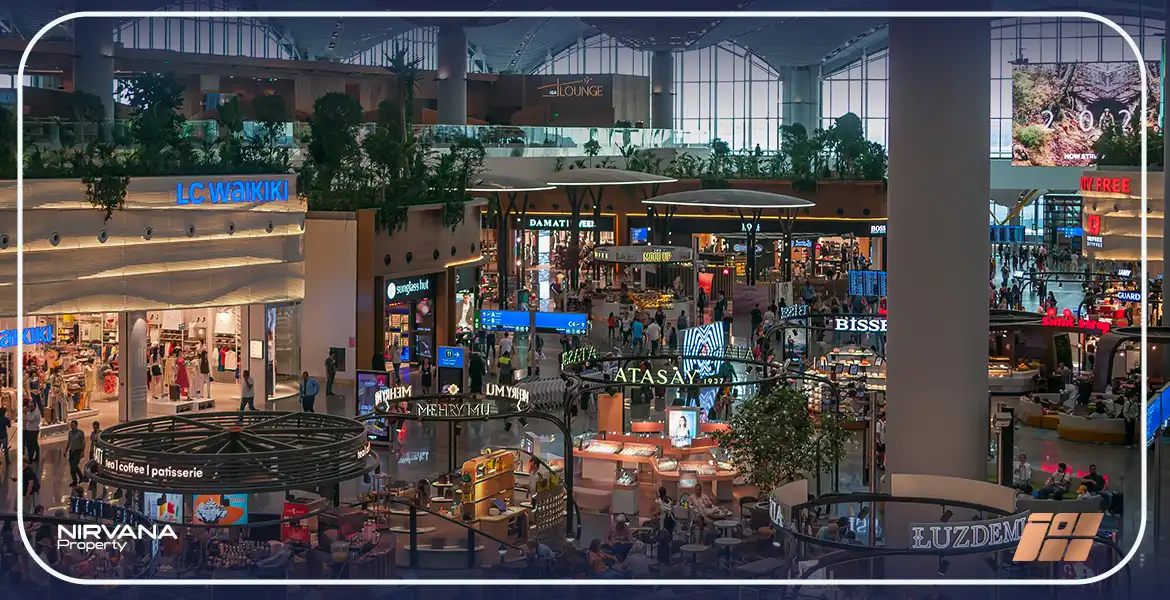 How is Istanbul Airport affecting the property in Turkey?
The airport has attracted new visitors and the attention of investors, especially in Istanbul.
More people mean more demand, and the real estate market is the largest sector of the economy.
Turkey has paved the way for this project in the literary sense by signing contracts with the best construction and real estate companies, which have increased their capital and are now ready to reinvest what they have received.
Any city that has good transport links and infrastructure will see a lot of demand for real estate, especially in Istanbul, leading to different prices and more investors.
By and large, the project had a good and positive effect on prices.
However, real estate in Istanbul near the new airport has seen an increase in value and price, which is not the best thing for people with a limited budget, but real estate in Istanbul has different options for everyone, so do not worry.
In areas like Besiktas, Sisli, Eyup Sultan, Arnavutkoy and Kagithane prices have increased the most.
Istanbul's new airport is located near the Black Sea coast on Lake Terkos, which affects the prices of lake view and sea view apartments in Istanbul.
It is also located near the old Ataturk Airport.
The impact of the airport on the Turkish economy and tourism in Istanbul is enormous.
As more and more people come to Istanbul in addition to the 22 million inhabitants, there is increased traffic, so the government is working on new infrastructure to meet these needs, such as the new metro line that will connect the airport with the Halkali Metro and the Kayasehir-Basaksehir Metro, while the airport includes 143 bridges and 655 walkways, as well as health centers in the airport. 
Security measures at Istanbul Airport are state-of-the-art to limit risks to the many millions of passengers.
These include ground radar equipment, traffic monitoring from miles away, security cameras every 60 meters with every conceivable camera technology, and a digital guidance system to quickly identify wanted persons among the millions of passengers.