Nisantasi district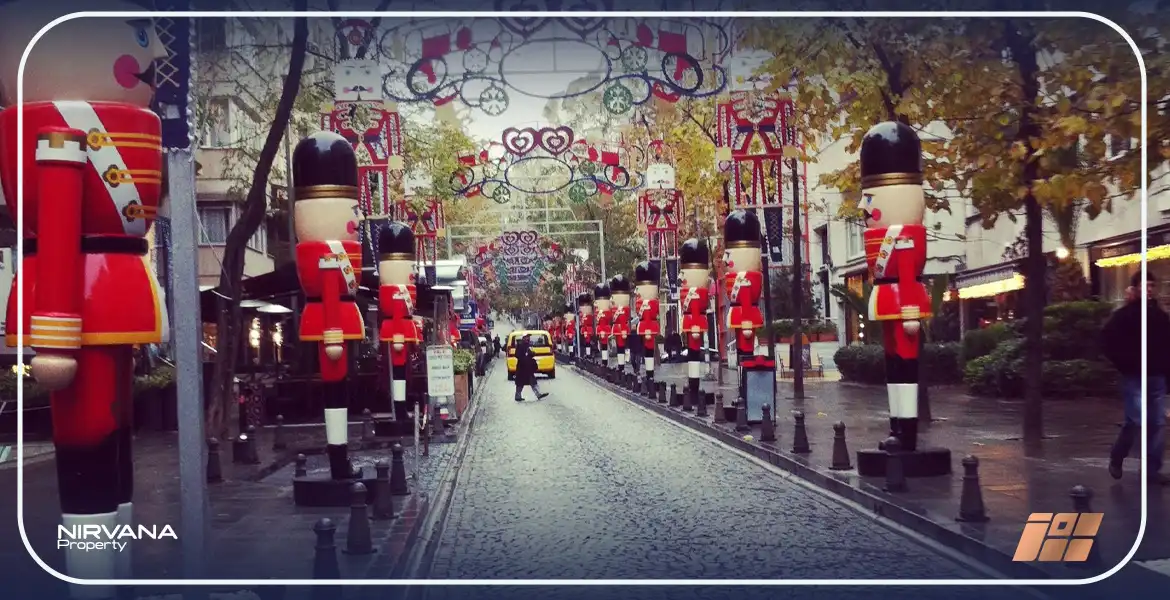 One of Istanbul's most beautiful neighborhoods, Nisantasi, is almost square-shaped and situated in the neighborhood of Sisli on Istanbul's European side.
Taksim is roughly 3 kilometers away, which takes 10 minutes to drive. One of Istanbul's most affluent old neighborhoods is this one.
It features a huge selection of eateries, museums, cinemas, retail centers, and tourist attractions.
It has a long and rich history that goes back to the Ottoman times when it was home to the nobles and the wealthy of the city.
However, today's Nisantasi is a central location for businesses and shops as it has some of the most prestigious shops and fancy brands in Istanbul.
The district represents the beating heart of Istanbul due to the presence of shops and entertainment which is usually the aim of tourists.
Nisantasi is one of the most popular tourist destinations in Istanbul due to its active streets, ancient history, prestigious shops, bustling markets, and its role as a cultural and commercial link between Asia and Europe.
One of the most searched things online is buying real estate in Nisantasi, especially commercial property in Nisantasi, as the real estate market in Istanbul is one of the leading markets.
Each area of Istanbul has a different advantage from the others, and this one is known for having many luxury apartments for sale in Istanbul.

What are the best places to visit in Nisantasi?
Together with Taksim and Cihangir, Nisantasi houses the largest international population in Istanbul. A Nobel Prize winner lives in this neighborhood as well.
Essentially, it serves as an upscale shopping destination. This place has a liberal and secular atmosphere.
One of Istanbul's most famous tourist destinations and one of its most vibrant economic, cultural, and historic avenues is Nisantasi Street, which is known by locals as the "street of fashion" in the country because it houses several high-end shops, shops, and huge shopping malls, where you could buy the latest international fashions, along with chique and unique accessories such as watches, glasses and leather products.
If you are a food lover and want to try some of Turkey's best and most authentic food, then we got the perfect place for you!
Nisantasi Street contains several high-class restaurants in Istanbul, which offer delicious Turkish barbecue, a bake, an appetizer, and dessert, as well as seafood restaurants, as well as those serving European, Asiatic, and Middle East dishes, as well as fast-food restaurants. 
The area nearby also has some of the best hotels in Istanbul where you can enjoy your stay before your next trip.
Hotels in Nisantasi are known for the high quality of their services that come with different budgets depending on the hotel so the prices can be suitable for everyone.
You must visit the most famous shopping mall in Istanbul and one of the best in Turkey as well!
The city's mall has everything imaginable from clothing brands to beauty products to entertainment like cinemas and playgrounds and of course restaurants.
City's mall has 8 floors where you can find some of the most luxurious brands in Turkey and the fanciest of restaurants. 
If you want to be introduced to the city's rich history then we have two picks for you, and the first one is Ihlamur Park which is a huge historical park in Istanbul that goes back to the Ottoman times where you can enjoy the greenery and all sorts of trees and flowers and pay a visit to Ihlamur Palace with fascinating architecture and decoration which was established by Sultan Abdul Majeed as a vacation home, but now it is a tourist attraction site and hosts many official ceremonies.
The second historical place is of course a museum, which is called Harbiye which showcases the greatness of the Ottoman military and the weaponry that was used in battles. Alongside statues of important figures such as President Ataturk.

Real estate in Nisantasi?
Nisanatsi is regarded as one of Istanbul's most prominent districts, the majority of housing projects are luxury apartments in Istanbul with all kinds of residential buildings and medium-sized buildings, with average heights of 9 floors.
The area is strategically located, as it's located close to many important and important places, which is why the real estate in the area is very expensive, which means that its inhabitants belong to a class of people, such as the rich and famous, and that is why the best investments in the area are in tourism, such as the hotels, the restaurants, the cafes, and the entertainment establishments, and that's why many people look for commercial property for sale in Nisantasi.