The biggest mosque in Istanbul, Istanbul is famous for its mosques and Ottoman architecture.
As the capital of the Ottoman Empire since 1453 and the largest city in Turkey, Istanbul is home to more than 3000 mosques, so deciding which one to visit is not easy. 
The Great Camlica Mosque, considered the newest symbol of the city since its foundation, is the biggest mosque in the history of the republic, whose foundation stone was laid on August 6, 2013. It was opened for worship on March 7, 2019.
The design of the mosque took into account contemporary lines and history as well as Ottoman and Seljuk architecture.
The Grand Camlica Mosque has been thought through to the smallest detail and is a real eye-catcher both visually and functionally.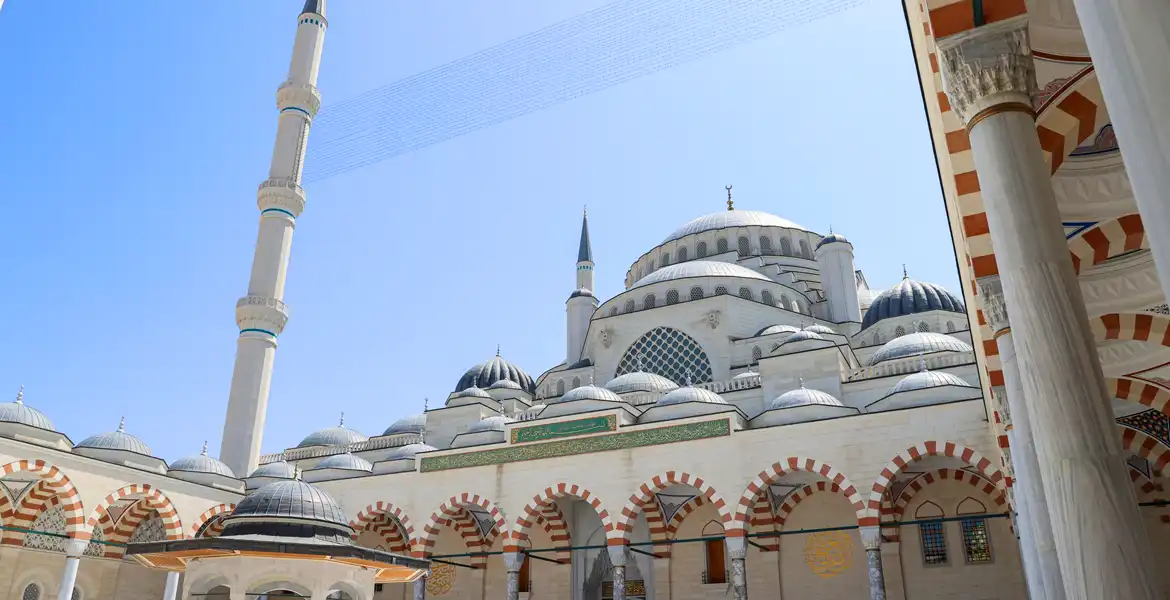 How to reach the Biggest mosque in Istanbul (Camlica Mosque)?
If you want to visit The biggest Mosque in Istanbul you must first reach Uskudar on the Asian side of Istanbul. From the European side of Istanbul, you can reach Uskudar by boat and also by Marmaray Metro, which passes under the Bosphorus.
Then there are 2 ways you can get from Uskudar to Camlica Mosque by public transportation:
Option 1: Take the M5 Metro from Uskudar Marmaray Station 6 stops to Umraniye Station. Then look for bus 320 from Santral and take it 10 stops to Buyuk Camlica Camii.
The entire trip takes about 30 minutes, depending on traffic.
Option 2: Take the M5 metro from Uskudar Marmaray Station 4 stops to Kisikli Station. Then look for the 14F bus at Kisikli Station and take it 10 stops to Buyuk Camlica Camii.
The entire trip takes about 35 minutes, depending on traffic.
Then you can take a cab from Umraniye station or Kisikli station, which will speed up the trip a bit and make the bus ride unnecessary.
There are 2 places where the cab can drop you off. One is on the main road just behind the mosque where the public buses go. The other is on Camlica Hill where you have to walk through the park.
The second way to reach the mosque is by bus.
You can read about: Istanbul Canal | Channel Istanbul Project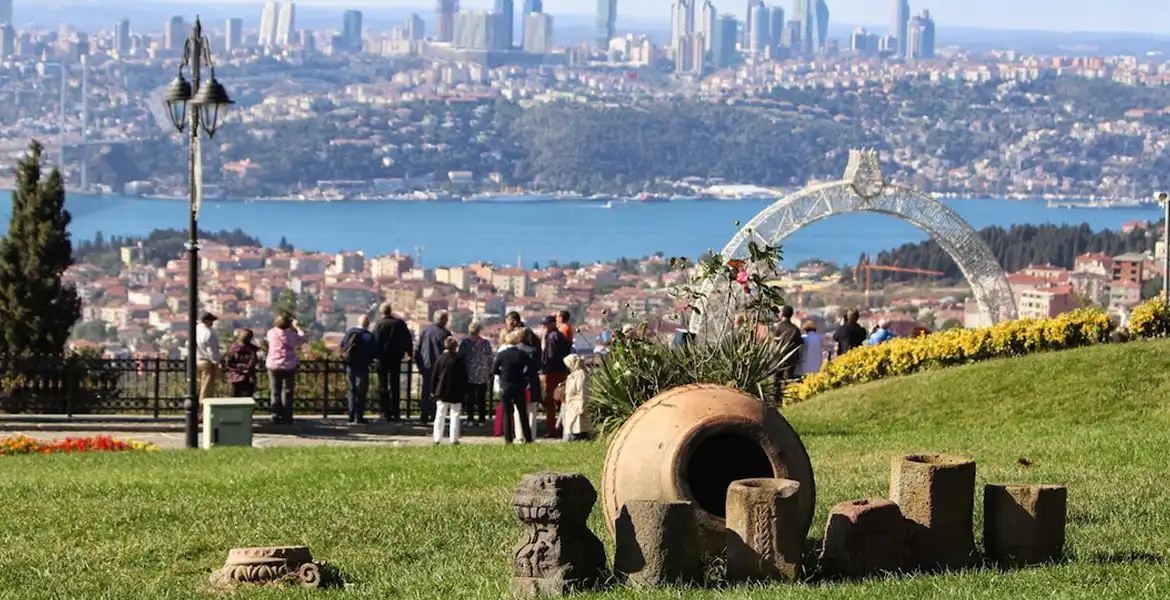 What is Camlica Hill? 
One of the best things about Camlica Mosque is that while it's far away, it has a lot to offer once you get there, including Camlica Hill.
If you need some time in nature to walk in a wooded area, walk through a grassy park, and have an incredible view of the city of Istanbul and the Bosphorus, you can do that from up here.
You can read about: Istanbul Rich Areas
What does the Camlica mosque look like?
Built-in Ottoman-Selyuk architectural style, the mosque can be easily seen from every corner of the city.

The mosque can accommodate 63,000 people to pray.

It has six minarets representing the six faiths of Islam. Four minarets are 107.1 meters high, a tribute to the Seljuk victory in 1071 at Manzikert against the Byzantine army, which opened Anatolia to Turkish rule.

The 72-meter-high main dome represents the 72 nations that live in the city. The second dome, 34 meters in diameter, represents the license plate of Istanbul.

It houses a museum, art gallery, library, conference hall, and underground parking for 3,500 vehicles.

Inside the dome are engraved 16 names of Allah, symbolizing the number of states founded by Turks.

A three-part keystone on the main dome, weighing 4.5 tons and 7.77 meters high, is the largest of its kind.

A 17,000-square-meter carpet rolled out in the mosque is a specially designed hand-knotted rug. The mosque's minbar, a pulpit from which Friday sermons and religious festivals are held, is 21 meters high and can be raised by elevator.

Eight funeral prayers can be held in the mosque at once.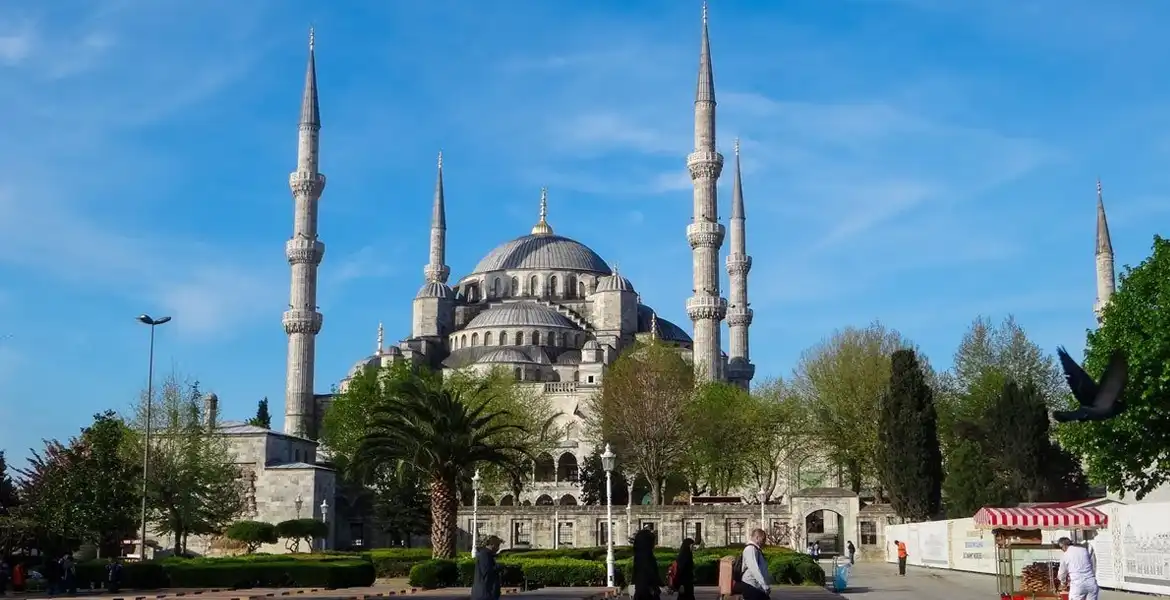 Are there any other mosques to visit in Istanbul? 
Since Istanbul is known for its historical significance and is famous for its mosques, here are the main mosques in Istanbul that you should see for their architectural character and historical context: 
Hagia Sophia: It was built in 360 as the Greek Patriarchate Cathedral of Constantinople, but was converted into a mosque in 1453. Until 1931, when it was secularized and turned into a museum. Most famous for its massive dome, it is considered the epitome of Byzantine architecture and is said to have "changed the history of architecture."
Sultanahmet (The Blue Mosque): Sultanahmet is one of Istanbul's most popular and important tourist attractions, although it is still used as a mosque. It is famous for its beautiful blue tiles that adorn its interior walls. Its six slender minarets distinguish it from other mosques, which usually have two or four minarets. In this 17th-century mosque, some Byzantine elements of Hagia Sophia are combined with traditional Islamic architecture.
Rüstem Pasha: Here you will find the best examples of İznik tiles in all of Istanbul. Iznik tiles are a distinctive feature of Ottoman decoration. It was built between 1561 and 1563.
Süleymaniye (the Magnificent): The Süleymaniye Mosque is the second largest mosque in Istanbul and one of the most famous sights not only in Istanbul but in all of Turkey. The tombs of the Sultan, his wife Hürrem, and Mimar Sinan are located on the grounds.
Edit by: Nirvana Property
where is blue mosque in istanbul?

how many mosques in istanbul?

which area is ayoub al ansari mosque in istanbul?