Maslak district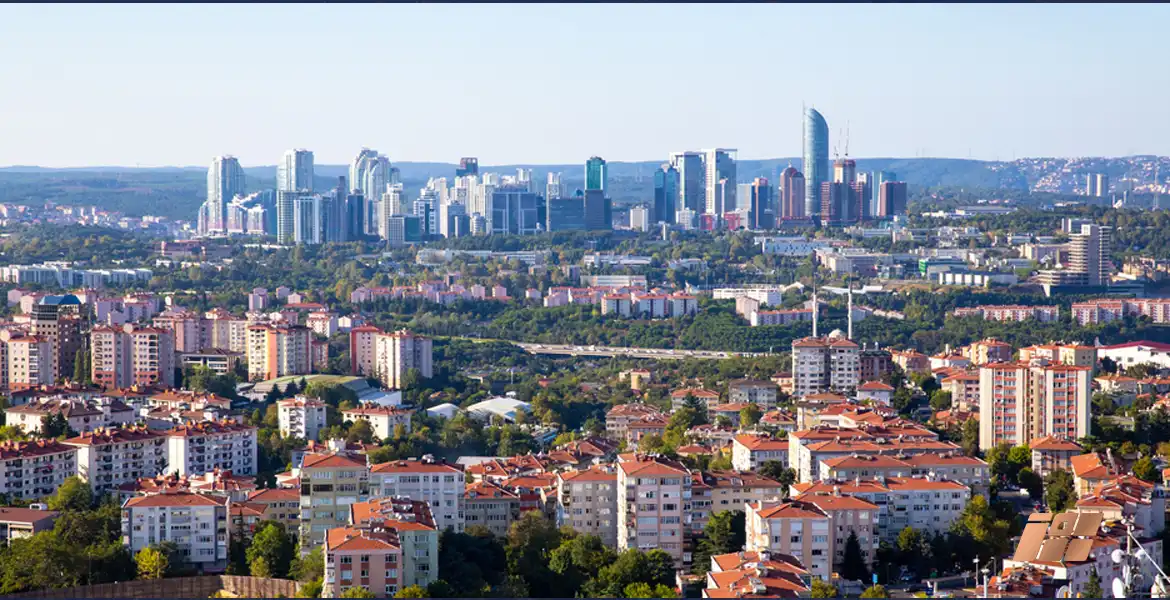 Maslak, which is located near the well-known neighborhoods of Sisli and Levent, is one of the most important real estate development zones in the city and the investment center of Istanbul.
As the growth rates of real estate values are constantly increasing, it is a contemporary, vibrant and prosperous area suitable for living and investing.
Maslak has really caught the attention of investors who look for commercial property for sale in Istanbul or apartments for sale in Maslak since Istanbul real estate has some of the most important investment opportunities in the world due to its attractive nature, ancient culture, prestigious streets, bustling markets and its role as a cultural and commercial link between Asia and Europe.
One of the most studied things is buying real estate in Istanbul, especially sea views real estate in Istanbul, as the real estate market in Turkey is one of the leading markets.
Where is Maslak Located?
Maslak is located in the Sariyer district which is located on the European side of the city. Because of its proximity to Taksim, Levent, the Bosphorus, and Istanbul's third airport – all of which are just minutes away – Maslak is strategically and economically important.
It is adjacent to major roads, shopping centers, public transportation hubs, and centers for arts, sports, and culture, and is located in one of Istanbul's most important areas.
By distance, Sabiha Gokcen Airport, which is situated on the city's Asian side, is 10 kilometers from Taksim Square and the well-known Istiklal Street. It is located 46 kilometers from the new Istanbul airport, which is 35 km away.

What are the best places to visit in Maslak?
Maslak was and still is a center of attraction for celebrities, businessmen, and merchants. During the Ottoman era, nobles, princes, and sultans resided here, which you can see for yourself by visiting the historic palaces and museums.
Maslak is home to some of Istanbul's most luxurious buildings, as well as several shopping malls and restaurants. There are also many other sights worth visiting, including natural beaches and forests.
Belgrad forest: It is one of the most beautiful and famous forests in all of Istanbul and one of the most visited ones, especially by those who look for a heart-whelming picnic with their friends and families. The forest is full of beautiful scenery and wildlife.
Services and Infrastructure in Maslak?
Transportation: Nearby is the E80 expressway, and the M2 metro line runs through the Maslak region. The ITU-Ayazaga and Ataturk Oto Sanayi stations of the M2 line serve the Maslak business district and neighboring areas. It provides a reliable and comprehensive transportation system that makes getting to and from the area safe and easy. This facilitates business operations and expands investment opportunities in the area.
Hospitals: Acibadem Hospital is located in the area which is one of the best-known hospitals in Istanbul, and just like any other area in Istanbul, Maslak has many state and private hospitals that serve its residents, as well as many medical clinics and pharmacies.
Schools and Universities: Istanbul areas are full of state, international, and private schools and universities that provide high-quality educational levels from kindergartens to high studies, and Maslak is no different than any other as you can find Imam schools which are international schools for Arab students, the Bosphorus school, the British school, and many kindergartens for children, as well as Istanbul's Technical university which is the world's third-oldest technical university dedicated to engineering sciences as well as social sciences recently and is one of the most prominent educational institutions in Turkey. 

Real estate in Maslak?
Maslak is home to some of Istanbul's most opulent real estate for sale. The area is also known for its breathtaking sea-view apartments for sale that look out over the Bosphorus. Maslak is therefore considered the first choice for Turkey's upper class and wealthy, especially celebrities, businessmen, and company owners. Consequently, real estate prices in Maslak are among the most expensive in Istanbul, which is reflected in the rents, and high prices.
Prices in Sariyer generally start at around $400,000. Due to the high activity level and location of the area, luxury properties in Maslak guarantee high returns.
Maslak is surrounded by huge business towers and skyscrapers and has a first-class, well-developed infrastructure. One of the most lucrative investment opportunities in Turkey is real estate, especially real estate for sale in Istanbul and apartments for sale in Fatih.
Nirvana Property can assist you in selecting the most suitable property for sale in Maslak. The real estate market has seen a significant increase in profits over the last decade, especially in a city like Istanbul, which is full of opportunities and offers a wide variety of prices to meet all needs.
Maslak apartments in Istanbul are a wonderful choice if you want to have a comfortable life. Maslak itself is one of the most important tourist areas of Istanbul, as it is one of the most charming areas on the Bosphorus. Maslak is one of the 32 districts of Istanbul on the northern tip of the European side, where the Bosphorus is connected to the Black Sea.
Some of the most important neighborhoods in this district are Buyukdere with many old summer houses, Rumeli Kavagi with many fish restaurants, Rumeli Feneri with fishing boats and a lighthouse near a ruined fortress, and Kilyos, famous for its beaches. Along the coastline of Maslak are also the summer residences of some foreign embassies.
Maslak is considered one of the most important investment areas of Istanbul and is known for being one of the most beautiful areas. For this reason, it has received a lot of attention from the Turkish government, as it is the front of the city. Work is constantly being done to develop the infrastructure, fix the bugs, and remedy the shortages, and this is evident when visiting Maslak.
Maslak apartments are in a region that has a rich and well-developed transportation network that includes all types of transportation, from buses, streetcars, and metro buses to cabs and shipping. This network connects Maslak with all districts of Istanbul.
What are the advantages of real estate investment in Maslak?
Due to all the features already mentioned, the real estate market in the region has developed strongly, especially because Maslak is one of the main tourist destinations in Istanbul. This has had a positive impact on real estate and the demand for it, so investors have turned to this region to build diverse types of real estate projects, from villas and apartment complexes to standard apartments.
Real estate prices in Maslak have increased thanks to its many advantages, but given its location and distinctive views, they are still considered reasonable.
There is no doubt that buying a property in Istanbul in the Maslak area is a profitable business. You will make a whopping profit by either renting the property to tourists or even reselling it.
In addition to its importance as an investment location and the classification of Maslak as the most earthquake-proof area, as well as its classification as the third most luxurious and expensive area in Turkey, if you walk along the Bosphorus, you must notify the luxury yachts anchored on its shores, in addition to the most luxurious real estate in Istanbul and historical or modern palaces of extravagant character, making Maslak a destination for the elite and famous, and therefore considered by investors as the investment paradise in Istanbul.
Administratively, the municipality of Maslak in Istanbul includes many neighborhoods and villages, including:
Kumköy (Kilyos)
Demircikoy
Garipçe
Gümüşdere
Zekeriyaköy
Kisırkaya
Rumeli Feneri
Uskumruköy
Reşitpaşa
Istinye
Yenikoy
Tarabya
Büyükdere
Bahçekoy
The major area in terms of the real estate sector in general and the corporate and office sector is the Maslak area.

What are the specifications of the apartments in Maslak?
Maslak is characterized on the one hand by its beautiful beaches that look directly onto the Bosphorus, and on the other hand by its unique location and the view of the famous Belgrade forests.
As far as prices are concerned, real estate prices in Istanbul vary depending on the region, and in Maslak, prices start at $400,000 on average.
What is the historical significance of Maslak?
The oldest Maslak name in history is Simas, which means holy mother, happy, beautiful water, and river. With the conquest of Istanbul, this area, whose settlement gradually increased over time, was described in Evliya Çelebi's travel book as a contiguous area based on gardens, where the villages of Maslak developed.
In the Ottoman era, it was used as a resting place for sultans, a short-term residence, a hunting pavilion, and a summer resort.
At the same time, many pavilions for heads of state were built in the neighborhood. Today there are actively used consulate buildings in Germany, Austria, Luxembourg, China, Russia, the United States, and Poland.
In the Maslak region, due to the increased trade relations with Germany during the reign of II.
Maslak includes the famous Rumeli Hissar Castle, which is one of the oldest and most prestigious castles in Turkey, as well as its famous view of the strait of the Bosphorus between the green trees and its tall towers, which played an important role in the siege of the city by the Ottomans, as it was located directly on the Bosphorus to restrict shipping traffic and strengthen the blockade.
Currently, the castle is visited and visited by visitors and tourists, as it is one of the most important museums and archeological sites with walls, towers, an amphitheater, and a mosque.