Fatih District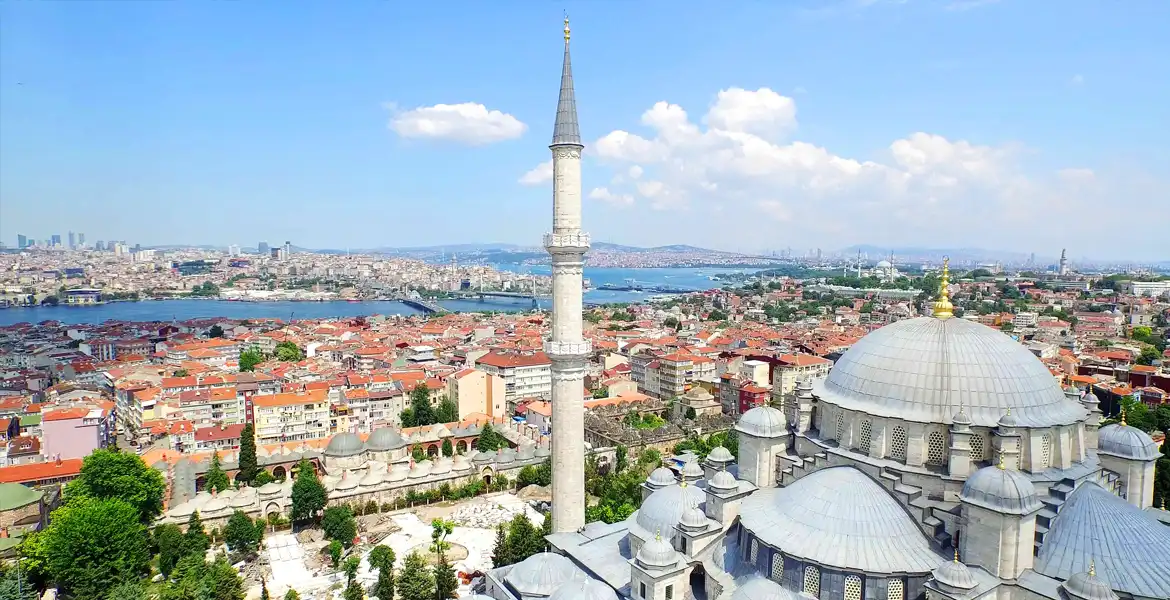 Fatih is a unique location overlooking the Ege Sea, which encompasses both Europe and Asia, giving the city a variety of features and advantages.
The city is a popular destination for visitors from all over the world, who enjoy its historical sites and entertainment offerings. This naturally leads to higher investment returns and a wide range of employment opportunities in various fields, as the job market in Istanbul offers many opportunities, be it in industry, agriculture, or trade, so everyone has their chance.
In Istanbul, where many foreigners and Arabs live, the Fatih district is home to a variety of ethnicities who look for apartments for sale in Fatih or sea view property in Fatih.
Turkey, and Istanbul in particular, is one of the world's most popular tourist destinations due to its charming landscape, historical past, illustrious streets, vibrant markets, and its function as a crossroads for trade and culture between Asia and Europe.
Buying real estate in Istanbul, especially sea view property, is one of the most studied topics, as the Turkish real estate market is one of the top sectors. Each part of Istanbul has its own advantages.


Where is Fatih Located?
On Istanbul's European side is Fatih. Nearly all hours of the day are packed on its old streets. There are countless benefits for locals and visitors to visit this place. The region borders several of Istanbul's core locations, including Zeytinburnu, Eyupsultan, the Golden Horn, the Bosphorus, and the Marmara Sea. It contains 57 neighborhoods.
The distance of 44 km—or 40 minutes—between the Istanbul airport and the Fatih area. Additionally, Sabiha Gokcen Airport, Istanbul's secondary airport, is around 50 kilometers distant.


What are the best places to visit in Fatih?
The Fatih area of Istanbul has a rich history that spans many civilizations and cultures. It has an unmatched historical and cultural background when compared to other regions, and because of the sheer volume of commercial projects and tourist attractions there, it is also regarded as Istanbul's tourist and commercial center. Fatih district dates from the Ottoman Empire era, therefore it exhibits the architectural style that was distinctive to that time period.
The Ottoman Sultan Mehmed the Conqueror inspired the name Fatih. The area is full of tourist places to visit and some of the most important historical sites in Istanbul that we are going to list a few.
Topkapi palace, which is a truly fascinating place to visit, is one of the greatest historical palaces the country has ever seen. It was used as a residence by the sultans of the Ottoman Empire and houses some of Islam's most important sacred treasures, including the sword and mantle of the Prophet Muhammad. Even though this palace was not particularly ostentatious or luxurious, it still attracts many visitors every day. It is also important to mention that Topkapi Palace was recognized by UNESCO as it was declared a World Heritage Site in 1985.
Fatih Mosque creates a harmonious fusion of extraordinary splendor, combining the dignity of the past and the splendor of modernity. It combines the best of the present with the heritage of the past to create a stunning architectural monument that should be seen. It has both religious and social qualities. It was named in honor of Muhammad al-Fatih, an Ottoman sultan who overthrew Constantinople in 1453. It is an excellent example of Istanbul's Turkish-Islamic architecture.
Covered Market is a huge market that contains around 4400 shops that sell all kinds of handicrafts. It is truly a beautiful place to visit if you want to literally find yourself a piece of Turkish's beautiful history and heritage. It was constructed during the Ottoman era to be a stock exchange center. 
Eminonu is a fascinating place in the Fatih area where you can enjoy the beauty of the view over the Bosphorus and many of the beautiful sightings of the historical places in Fatih.


Real estate in Fatih?
Unlike other areas, Fatih is located in the center of Istanbul, where the real estate market is very active and in high demand by investors. In addition, the region's residents have access to extensive resources in education, medicine, and marketing.
One of the most lucrative investment opportunities in Turkey is real estate, especially real estate for sale in Istanbul and apartments for sale in Fatih.
Nirvana Property can assist you in selecting the most suitable property for sale in Fatih. The real estate market has seen a significant increase in profits over the last decade, especially in a city like Istanbul, which is full of opportunities and offers a wide variety of prices to meet all needs. also, you can take a look at Apartments for sale in Istanbul